OUR CHARITY CONCERT: A FULL SUCCESS!
The DJH Youth Hostel Meppen as a Perfect Place for a Musical Evening
On September 18th, our Ubomi charity concert took place in the new beer garden of the youth hostel in Meppen. With beautiful weather, our guests could take a seat in the garden from 5 p.m. on, with many tents and tables set up. Biggi, one of the Ubomi founders, welcomed our guests and told them about the Ubomi project in Cape Town, the reason for this charity evening. Afterwards ChapeauKlang opened the concert evening, followed by Candlelight Acoustics and the Jan Pecher Trio, here playing as a duo. The three bands may have looked familiar to some, as they already performed for our living room concert series in the fall of 2020, so naturally we were all the more pleased to have them on board again this time. While music was eagerly played on stage, our guests could enjoy the burger stand of the youth hostel, record video messages for the Ubomi children in Cape Town, or inform themselves about the project through the flyers on display and the photo gallery.
Creative Possibilities to Donate
Through the concert evening we hoped to raise funds for our Ubomi project in Cape Town. And there were plenty of opportunities for this during the evening: At the beer cart, in addition to drinks for themselves, our guests could "buy" drinks for our Ubomi children. These were then billed separately and went as a donation to our project. Next to the donated candy box, which was especially well received by our youngest guests, there was also a donation box, so that everyone could also throw in a little change as they passed by.
Another, very entertaining, way to donate money was our "Jukebox". After all the bands played their solo performances, they performed requested songs together. For this, all guests could write a song wish on a piece of paper, along with a donation amount. If this song was then chosen in the jukebox session, the song was played and in return the amount was donated. This was very amusing, because of course our bands didn't know in advance what songs the audience would wish for. And still they mastered wishes like "Rockin' around the Christmas Tree" and "Griechischer Wein". The atmosphere was fantastic, people danced and sang along until well after midnight!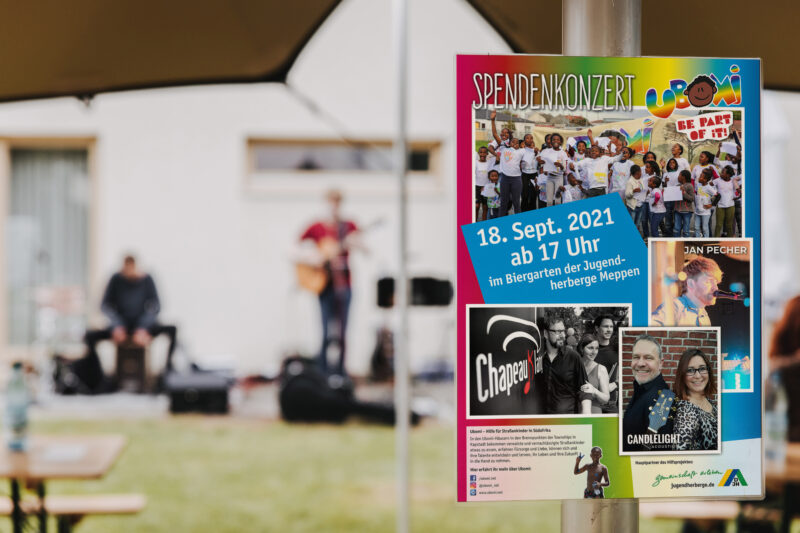 A Big Thank You!
Such an impressive evening would not have been possible without the active support of many helping hands. That's why we would like to take this opportunity to thank above all:
The team of the DJH youth hostel Meppen. Thank you for providing us with delicious food and drinks the whole evening! And of course for letting us use your beautiful beer garden for our concert.
The bands ChapeauKlang, Jan Pecher Trio and Candlelight Acoustics. Thank you for accompanying us so wonderfully through the evening and for creating a fantastic atmosphere.
The DJH Foundation. Your generous donation of 2.000€ helps our project on the ground in Cape Town, thank you!
To everyone who was there for the evening. Thank you for singing and dancing along, supporting our project with your donations and making this evening so beautiful.
In total, we were able to raise over €3,200 in donations that will directly benefit the Ubomi children on the ground in Cape Town, so the concert was a complete success! And who knows, maybe we will all meet again for another edition of this wonderful evening…
BECOME A SUPPORTER
We want a peaceful life and better future for our Ubomi children. We believe in this vision. "It always seems impossible until it's done". This quote from Nelson Mandela was our motto when we planned and finally opened our first Ubomi house back in 2016. Please continue to help us realize our vision and enable the children, who so deeply deserve it, to have a life worth living.