A CHANCE FOR CHILDREN
In the South African townships Khayelitsha and Gugulethu – like in all townships – poverty, unemployment and lack of prospects prevail. The children suffer the most from this. For them, equal opportunities are out of question. Many children lack basics things such as food, a place to sleep, health care and education. Most of the time, they must look after themselves and spend their time on the streets, a dangerous place. Often, they are orphaned and must navigate through life on their own.
In our Ubomi houses, the children not only receive familiar warmth but also a warm and healthy meal, support with their homework and language lessons, life-skills training as well as games, sports and creative activities – and a chance for life and survival.
For and together with the people in the township
Our first Ubomis should soon be followed by more. Just like islands, they should appear centrally among the township communities with fifty to hundred families.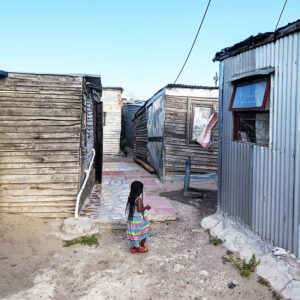 Therefore, the linkage to the township communities is an important factor of success – while planning as well as running it later: The aim is to train the people on-site according to their capabilities and involve them in the work. In that way, the supervision and care for the children in the Ubomi can be taken over by qualified township residents.
For the supervision of the children we also involve the youth. They, for example, are trained by our partners. That way, in addition to our regular age group of 7 to 11 years, we can offer the youth a place where they can develop further.
Support us with a donation or become a Ubomi sponsor!
UNTERSTÜTZER WERDEN
Wir möchten für unsere Ubomi-Kinder ein friedvolles Leben und eine bessere Zukunft. Wir glauben an diese Vision. "It always seems impossible until it's done". Dieses Zitat von Nelson Mandela war unser Leitspruch, als wir 2016 unser erstes Ubomi-Haus geplant und schließlich eröffnet haben. Bitte helft uns weiterhin dabei, unsere Vision umzusetzen und Kindern, die es so unglaublich verdient haben, ein lebenswertes Leben zu ermöglichen.